Current Funding Campaigns
CURRENT CAMPAIGN: 
THE AGE OF LIVING DANGEROUSLY
Campaign Started June 1, 2016
FairTrade Films and co-production partner Dili Film Works are currently raising funds for a new documentary, The Age of  Living Dangerously.  This is a film that profoundly touches both Timor-Leste and Australia.  The film is currently in pre-production.  It will be completed in June 2017.  The current crowd funding campaign is to cover the production costs in Australia and Timor Leste. See below for information about how to contribute to the crowd funding campaign.
A Tax Deductible Donation can be made through the Documentary Australia Foundation (DAF). Please visit the following link https://www.documentaryaustralia.com.au/films/3931/the-age-of-living-dangerously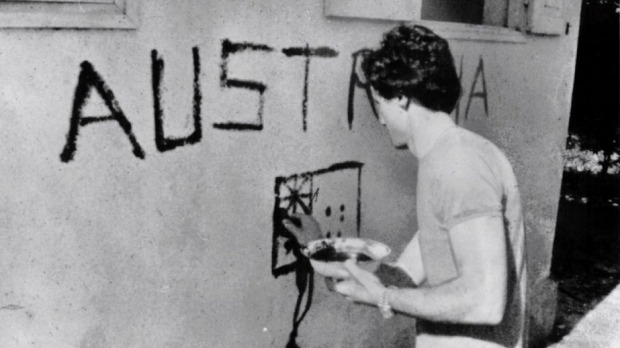 Greg Shackleton, Balibó, Portuguese Timor, 1975.
The Age of Living Dangerously

The Story

The Age of Living Dangerously is a powerful human drama, a cold case investigation and a politically explosive story. Shirley Shackleton travels to Indonesia to visit her husband's grave. Greg Shackleton was one of five Australian based journalists, the Balibó Five, killed in Portuguese Timor whilst reporting on Indonesian military incursions into the small colony in 1975. This is an unsolved mass killing and Shirley has lived for decades not knowing how her husband died or who killed him. But she does know that not long after they were killed the men's remains were buried in a Jakarta cemetery. She has campaigned for years to have Greg's remains repatriated to Australia. Shirley will visit the Jakarta cemetery and attempt to have Greg's ashes returned.

Shirley will then travel to Timor Leste and retrace the steps of veteran Australian journalist Roger East who travelled to Dili in 1975 to investigate the deaths of the five young men. East was later shot and killed in Dili the day after the full-scale invasion of Timor in December 1975. The story of Roger East and the Balibó Five was told in Robert Connolly's powerful feature film Balibó.  This documentary investigates why these crimes, forty years later, have not been properly investigated.

Shirley Shackleton's life has been marked by a fierce determination to discover the truth about the deaths, and why Australia and many other countries did not protest over the subsequent genocide in East Timor. Her journey follows in the wake of the decision by the Australian Federal Police to abandon its war crimes investigation into the case due to 'insufficient evidence'. Shirley wants to know how her husband died. She wants the doubts and nightmares to end so that she can live the rest of her long life in peace.

Shirley travels to the small town of Balibó on the border of Timor Leste and Indonesia. It is where her husband and the other four journalists were killed in 1975.   In Balibó Shirley may find closure, perhaps the investigation will reveal new evidence about who killed her husband, or how he died. She grieves, and the women in the town grieve with her, and hold a traditional Timorese ceremony to release Greg's soul and to put an end to Shirley's mourning. In Timor the ceremony is called a Koremetan, literally untying the black. It marks the end of the mourning period following a person's death. The Timorese see Greg and Shirley's story as their own, and they take responsibility for her healing. This is a powerful and moving conclusion to the film, and to this chapter in Shirley's life.

The film is reminiscent of Joshua Oppenheimer's The Act of Killing and The Look of Silence. However,The Age of Living Dangerously, unlike Oppenheimer's films is about the murder of Australian citizens, and, in the case of East Timor, about the largest genocide per capita in modern history, which happened right on our doorstep. Many believe that the Australian Government at the time covered up the murders, and colluded in the invasion of Timor to protect its trade interests with Indonesia. Until the truth is told about who murdered these men, why Timor was sacrificed, and why Australia has been complicit in and covered up these crimes, the reputation Australia has as a decent, fair nation is damaged.

Dili Film Works is currently seeking philanthropic support for this film. A site for tax deductable donations will be posted soon.  Donations can also be made directly on this site to the fan club.

COMPLETED CAMPAIGN: A GUERRA DA BEATRIZ (BEATRIZ'S WAR)

Timor Leste's first feature film, A Guerra da Beatriz, was made through the generous support of hundreds of individuals and organisations that contributed to the film's three crowd sourcing campaigns. The producers would like to thank the many people from around the world who supported the film. In Timor Leste we would like to express a special thanks to former President, and Noble Peace Prize Laureate, H.E Jose Ramos Horta, Former Prime Minister H.E Xanana Gusmão, Kirsty Sword Gusmão, the Office of the Prime Minister, and The Secretariat for Arts & Culture.

TARGET

$15,000

by August 30, 2016

Raised

$4120

Where will the film be seen?   

The Age of Living Dangerously will be screened in the cinema in Dili, tour the country as part of a travelling film festival, shown at film festivals internationally, and screened to communities throughout Australia and Indonesia.

How to support Dili Film Works

There are several ways to support this important film and Dili Film Works. You can become a Fan Club Member or a Sponsor. You can do this on through this crowd funding page or you can make a tax deductible donation through the Documentary Australia Foundation.  See below for details.

You can use the Pay Pal 'Donate' button above or download the relevant forms from the FairTrade Films website here and make your contribution via bank deposit, cheque or money order.

Fan Club Member: $80

Become a Dili Film Works Fan Club Member.  You will be listed as a fan club member on the website and in the film's credits.  You will receive an advance copy of the The Age of Living Dangerously when it is completed in 2017.

Silver Sponsorship: $250 +

You will be listed as a sponsor member on the website and in the film's credits. On becoming a sponsor you will receive a copy of the Beatriz's War DVD and Soundtrack CD. You will also receive an advance copy of the The Age of Living Dangerously when it is completed in 2017.

Gold Sponsorship: $2000 +

By making a major contribution to this film you will contribute to the development of a film industry in East Timor. You will enjoy the benefits of a Silver Sponsor plus a copy of the Dili Film Works: First Collection and an advance copy of another new film, The Stolen Child, when it is completed in 2017.

Gold Sponsors will be invited to VIP premiere screenings  of The Age of Living Dangerously in Dili and in each Australian capital city.

A Tax Deductible Donation can be made through the Documentary Australia Foundation (DAF).  Please visit the following link

https://www.documentaryaustralia.com.au/films/3931/the-age-of-living-dangerously

Additional Information

Contact: Lurdes Pires or Stella Zammataro

670 7727 5011 (Timor Leste) 61 3 9417 1864 (Office Australia) 61 (0)417 592 977 (Mobile)