Children of The Sex Trade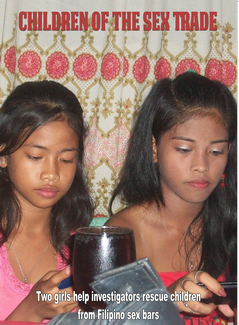 Two young, courageous Filipino sisters face death threats when they help former Australian Federal Police and an ex-Special Forces commando rescue underage girls from local sex bars. The sisters, both abused by foreign men as children, have also worked in several bars. They now work at PREDA, a child right's foundation established by Fr. Shay Cullen, an Irish Catholic priest. The three former police have volunteered to help Fr. Shay. The younger sister, Michelle, assists the investigators to track down the Australian fugitive who allegedly abused her when she was fourteen.
They are joined by John Curtis, a former Special Forces commando, and the founder of Grey Man, an organisation that rescues children from brothels in Asia. John Curtis works closely with the elder sister, Marisol, to plan a sting operation on sex bars that employ underage girls.
57 minutes
Awards:
2014 ACS Silver Award For Cinematography. Documentaries Cinema and TV
2015 Palm Beach International Film Festival. In Competition